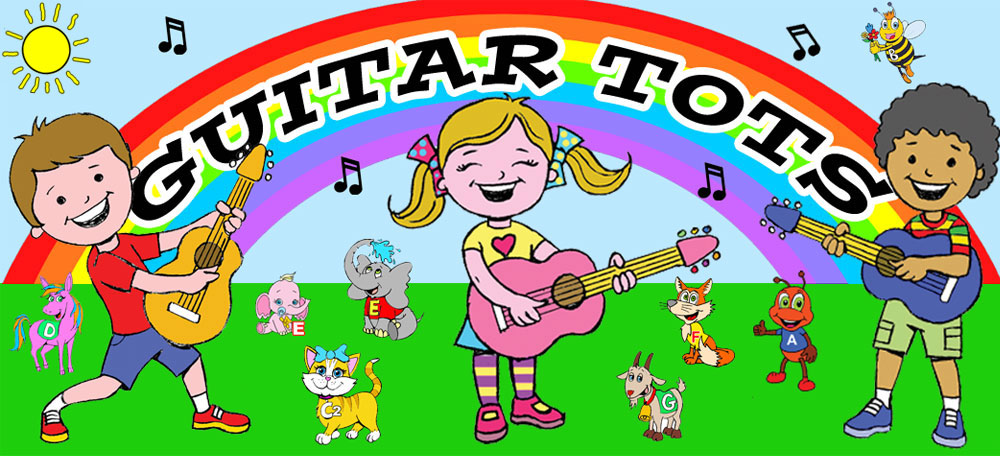 Your Child Can Begin Playing Songs On Guitar in Less Than 10 Minutes Using The Guitar Tots Method!

Suitable for Electric, Classical & Acoustic Guitar
GUITAR TOTS - BOOK 1
SKILL LEVEL: Complete Beginners (3 to 9 years)
Guitar Tots Book 1 - Lessons For Young Kids
Lesson Book & Online Video Lessons
ISBN: 978-1-5262-0059-4
Specially designed lessons for children aged 3-9 years
No musical knowledge required
Fully illustrated with pictures that kids love
Easy to follow lesson book with no musical score
Sing-a-long video lessons which kids learn in no time!
Includes online Child Safe video lessons directly to your laptop, tablet and mobile
Educational stories, games and interactive sheets
Learn to sing and play 12 popular nursery rhymes
Countless hours of fun and priceless early learning
Includes secure online video lessons without any Youtube adverts, creating a safe environment for children!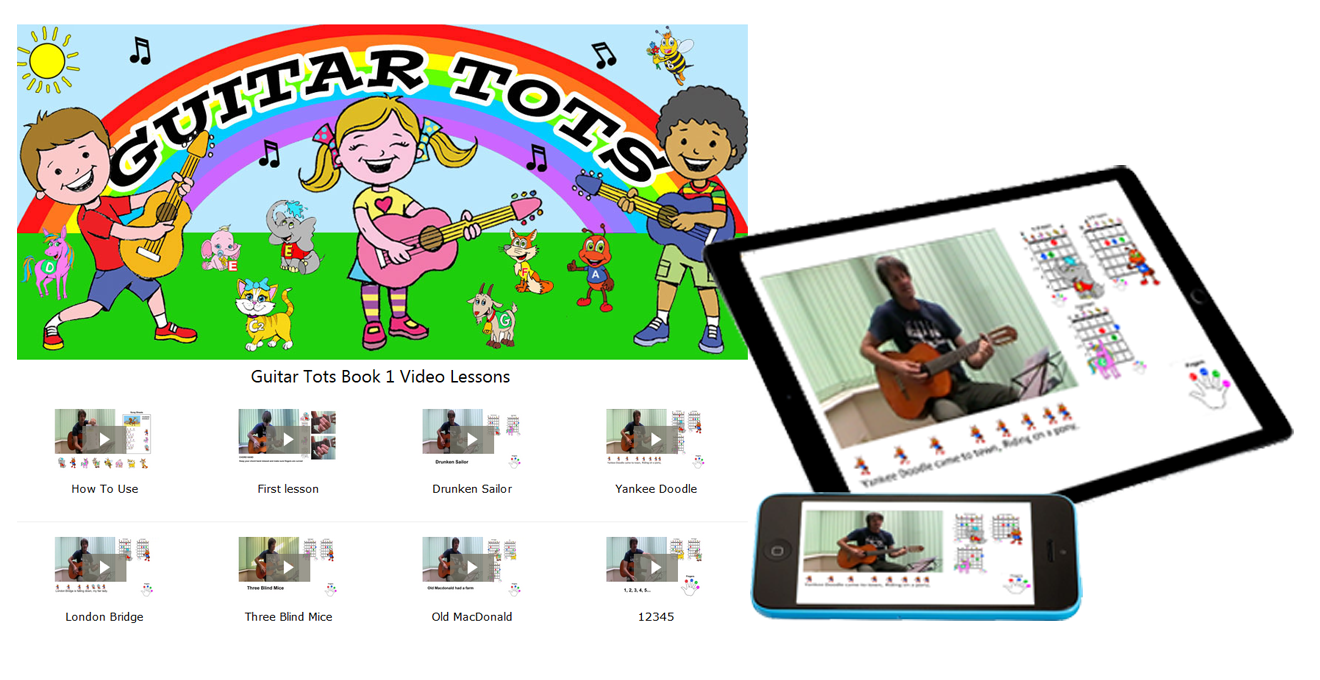 TESTIMONIAL
"Young Guitarists? This is a must..."
"My Granddaughter couldn't wait to get started. Being a musician myself, this has to be the best starter package for young people I've seen. Easy to follow, keeps her interested, and I'm sure will develop her skills. The biggest thing in young starters, is keeping them interested, this does just that. Well done, and Thank you."
Julian - UK
The very best start YOUNG...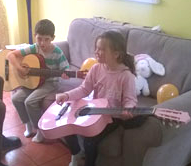 Guitar Tots is a unique learning tool to enable children as young as 3 years old to play guitar.
If your child is aged 7 years or above then maybe also check out Book 2 here >>
Book 1 comprises of a colourful, child-friendly lesson book packed with sing-a-long nursery rhymes. Also included are online video lessons, interactive games, reward stickers and giant colouring sheets.
Each note or chord has a character, such as Barry Bee for B or Chelsea Cat for C and fingers are colour-coded, so your child does not need to be able to read or write before they can learn a tune.
Even when children are colouring in the character sheets they will pick up on the musical concept.
Visual close-ups of hands correctly positioned on guitar chords playing the tunes are clearly shown in the lesson book along with online lessons without any annoying adverts found in apps or on YouTube that can be harmful to your child.
Just read the reviews...
TESTIMONIAL
"So glad I found this..."
"Having called several local guitar teachers in my area I was unable to find anyone who would teach my 4 year old because they said she was too young, so finding your course online was a welcome surprise. My daughter is really enjoying the lessons and already knows all the strings and is strumming along to the songs whilst singing (rather loudly) to her iPad as I email. Thank you."
Nathalie W - England
More about Guitar Tots:
Meet the Guitar Tots gang:
These fun cartoon characters will help to teach your child how to play guitar and learn about music, timing and rhythm. Your child may not even be old enough to say their ABC's but they will remember these 8 new friends in an instant.
Elmo Elephant
Andy Ant
Debbie Donkey
George Goat
Barry Bee
Ellie Elephant
Chelsea Cat
Feddie Fox
TESTIMONIAL
"Lovely lessons thank you..."
"My kids are really enjoying it and there's lots for them to do. Hope you don't mind but I made a few copies of their favorite character 'Chelsea Cat' because they love colouring her in:) They both can now play 3 chords too!"
Pam - Ontario, Canada
Imagine the delight YOUR child will feel when they can play & sing these 12 nursery rhymes:
If you're happy and you know it
Old Macdonald
Twinkle Twinkle little star
She'll be coming round the mountain
Yankee Doodle
There were ten in the bed
1, 2, 3, 4, 5 once I caught a fish alive
Baa baa black sheep
The animals went in two by two
Drunken sailor
London Bridge
Three Blind Mice
What are the benefits to your child...
Young kids love interaction and are also amazing at learning, especially if they are enjoying themselves in the process.
Early learning education (a head start on other children)
Achievement
Confidence
Popularity (guitar is a very cool thing to play)
Concentration
Co-ordination
Creativity
Development
Improved memory
Interaction
Problem-solving
Independence
Enjoyment
Music, rhythm & timing
A life-long skill that one day they will thank you for!
What are the benefits to you...
Affordability - Guitar Tots costs you approximately the price of ONE lesson with a guitar teacher
Interactive time with your child
Time management - Lessons in your own home
A guitar teacher in your home 24/7, 365 days of the year
A perfect activity for those rainy days
You'll be providing your child with essential life skills at an early age to succeed in music
Educational - Yes, if you want to then grab a guitar and you will learn from these lessons too!
Who is Guitar Tots for...
Children aged 3+
Great for children with Dyslexia or associated conditions
Mums and Dads
Grandparents
Aunts & Uncles - Guitar Tots makes a great present for your niece or nephew
Guitar Teachers who want a ready-made course for their younger students
Schools & Nurseries
TESTIMONIAL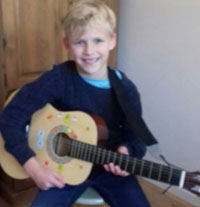 Perfect for young children...
"I was looking for lessons for a 7 year old and liked the fact that this uses pictures as a teaching method and not just letters. It struck me as a good idea, it looked fun, seemed a bit different so I thought I'd give it a try. The lessons in the book are very easy to follow especially when combined with the videos using our iPad which is very useful. So far it's hard to find a fault and I can see this getting many years of use. It's nice to have the house filled with music. Very good value and I'm pleased with my purchase."
Miss. S. - UK

Acknowledged by The British Library
The Guitar Tots course is the most complete learning package available for children...
"Yes! I Want To Give My Child The Best Start In Learning Guitar."
Guitar Tots paperback book & online lessons
Here's what you get:
Guitar Tots - paperback lesson book (40 pages)
14 Sing & Play lessons
INCLUDES online Child Safe video lessons (laptop, tablet & mobile)
24 colouring sheets
Giant chord sheets
Easy introduction to guitar video lesson
Specially written stories & games
Reward stickers
A free plectrum
Email support
Regular free updates
Get the complete package delivered to your door.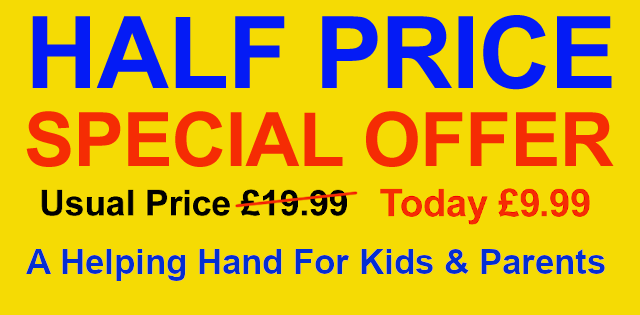 'ONE OFF' PAYMENT! The complete package - Lesson book & online lessons
Usual Price: £19.99
Secure Payment: MOBILE - TABLET - PC
*No Paypal account required.
SPECIAL OFFER! - FREE UK DELIVERY.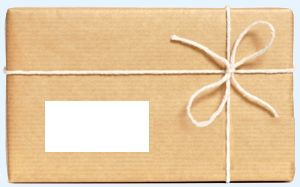 We will deliver First Class Post FREE of charge in the UK
Also Available on:
Click Here >> (UK only)
Click Here >> (UK only)

We take your internet security very seriously which is why we only use Paypal secure payments or Amazon to process your order.
Your Purchase is 100% RISK FREE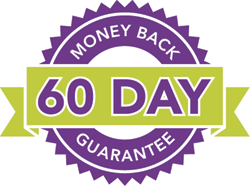 Because we are so sure that the Guitar Tots method is the best available - anywhere! - we can happily offer you a full, unconditional 100% refund if you and your child are not delighted with what you receive. Just email us within 60 days stating that you want your money back at admin@guitartots.com and we will refund you the full cost, no questions asked AND - you get to keep the course.